In a world where just about everyone now has a tablet, what are the best ways to show your own individuality with these devices that seem to be carbon copies of each other? A cool case can be the way to go to show your style and integrate your personality into your look. Here are some of the coolest tablet cases and holders we found. Is it time for yours to get a new look?
1. The Leather Folio
This cool holder says "I like the vintage leather look, yet I am still modern and up to date." It's functional design allows you to hold your phone and tablet, and even comes with the function of propping up your little work space at a diagonal angle so you can get the most work done. Get ready to feel awesome with this cool portfolio case.
 From:
 Instructables Leather Ipad Case
2. Cloth is Cool
These cases can be fun DIY projects. Customize them with any cloth you want. Use your favorite colors, designs and anything that will make you unique. From the office to the weekend these cases and styles will come in handy.
Look! It even works for Comic Lovers!
Thank you 
Lori H. Designs
and 
James Whatley
3. The Macedonia
With the modern 3D printed feel, this case will show that you're on the up and up. While adding some great protection from drops, this case also breaths to show off how shiny your tablet is beneath the case. Any techie would be happy to have this case in their collection.
Now that's Sleek! Even in white
From:
Fresh Fiber
4. The SteamPunk
Spawned from the theme of a world that could have been, but never was this case will have onlookers wondering what the heck you're carrying. With the look of a secret book on gear technology from 1850 this case is definitely a change of pace for anyone. With the real buckle to make sure it's secure this is functional and fun!
From:
Got-Steam
5. The Messenger
Handmade from all leather this holder will have you feeling 100% authentic. This envelope styled case will make you feel as if you are carrying a special delivery everywhere you go. Why not change up the pace and go all handmade?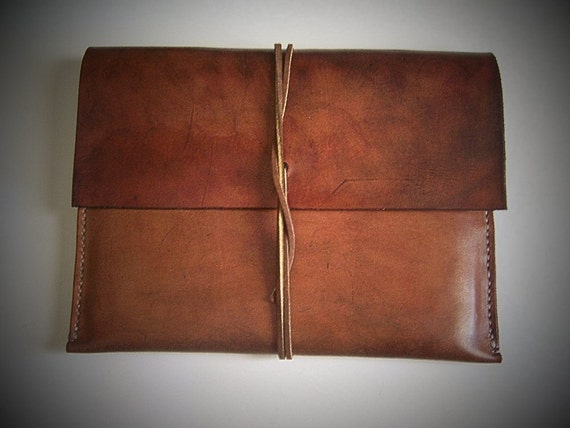 From:
Bay Towne Leather USA
One thing is for sure, these cool cases can sure add some variety to your everyday life. We never really realize how mundane things get when we end up looking at the same old stuff everyday. Switching your cases can make you feel more adventurous. After all, there's nothing quite like having a special place to put your Ipad (is that weird?).
Which one are you going to sport?
Cover photo: Yutaka Tsutano
Subscribe to Indivox!
Get the experience of a lifetime
Amazing Newsletters
Premium Content
Early Access to Features
Creative Living Ideas
The whole Experience